What is an E-Commerce Website?
Amazon is a prime example of an e-commerce website.
You browse products in the Amazon store, order the ones you want, pay by credit card and they get delivered. You have confidence in the process.
But Amazon makes no product and they sell through an army of affiliates. Some products they stock (FBA - Fulfilled by Amazon) and the rest is drop shipped by their suppliers. With drop shipping, you don't have to store any inventory. You advertise product, your customer orders and pays for it and you order it from the supplier, who ships it to your customer.
It all works smoothly for Amazon because they have software and systems in place to handle it all. Well, guess what? You can do the same. You can create an e-commerce website. This is how.
E-Commerce or Affiliate Marketing?
More...
This is something I get asked a lot. Should I create an affiliate marketing or e-commerce website?
A question I answer with another question. Why not build both?
The two are not alternatives. They are complimentary. Take a look at my website
If you hover over Products, you can choose between Shop and Amazon. Shop takes you to the site's e-commerce store, where you can buy products and I make the difference between wholesale and retail and Amazon takes you to Amazon's e-commerce store, where you can buy products and I get paid a commission by Amazon.
Follow the menu paths through and you will see that both the e-commerce store and the Amazon store are structured the same. For example, you can go Products >> Shop or Amazon >> Bikes >> Kid's Bikes.
Some customers will go through Shop, because the products are generally cheaper and others will go through Amazon because it gives them a feeling of security.
I get paid either way.
And, of course, I can add other affiliate products as well as expand the shop's range, so the site can be made both broader and deeper.
Another similarly structured site is https://drivenbygolf.com. At the time of writing, only the Amazon arm had been built out, but the e-commerce shop will be added shortly. (If clicking on the Shop sub-menu item does nothing, the shop hasn't been created yet).
A Done-For-You E-Commerce Site
What Do I Need for E-Commerce?
Assuming your supplier is AliExpress (and why wouldn't it be? they have everything and are reliable) there are two essential WordPress plugins that you need. One is free and the other is paid.
The free plugin is WooCommerce. You download and install it just like any other WordPress plugin but the installation procedure is more complex than for most WordPress plugins. You would want to have had a fair amount of WordPress experience, including plugin installation, before tackling it. The installation wizard will also install the Jetpack plugin and optionally connect to your PayPal, Stripe and Mailchimp accounts.
There is an upgrade to a paid version of WooCommerce but the free version is likely to be all you will need.
WooCommerce creates your store, shopping cart and checkout. It's just waiting for you to set up categories and import products.
You can update your store with products one at a time, but don't!
It's incredibly time-consuming and products can get updated with price changes or become out of stock without you being aware of it.
You need a store with a lot of products and that just won't happen if you have to load them up one at a time.
Enter the AliDropship plugin.
AliDropship: It's E-Commerce Magic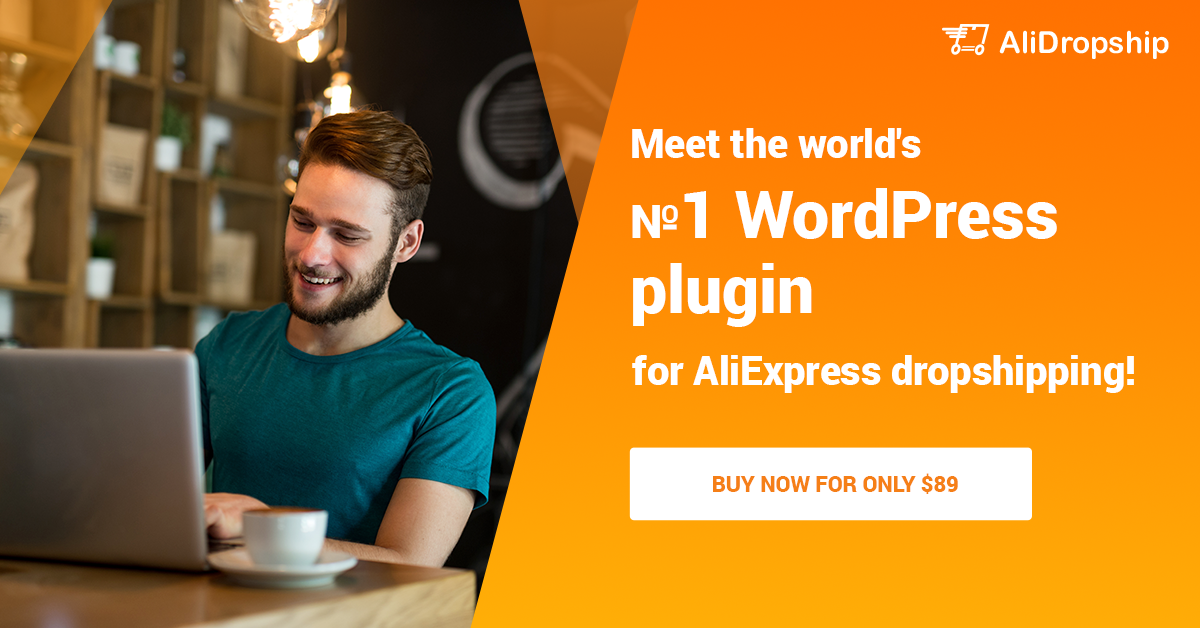 AliDropship is simply the best WordPress plugin I have ever bought. It works perfectly, does everything you want it to do and the organization behind it provides exemplary support.
Once you've set AliDropship up, you simply log in to AliExpress, find your desired products by keyword, decide how many you want to import and into which category and then import the lot with a single click! How good is that?
AliDropship imports the product descriptions and the product images and marks up the prices according to the rules that you've set up (and which can be changed at any time). For example, you could mark up the cost by 80% and round up the result to the next 95 cents.
Prices are automatically kept up to date and out-of-stock situations noted.
That's already saving you countless hours of work, but the magic continues when a customer orders a product from your store. Remember your store will have hundreds or even thousands of products.
Without AliDropship, you would have to maintain your own records of which supplier supplies each product, get their contact details, place an order on them somehow, including your customer's details for the drop ship and, of course, make the payment. And keep track of everything.
With AliDropship, this is all done for you. The order is automatically raised within your website for you to eyeball and, if everything is correct you can submit the order with one click.
Which model do you think Amazon uses?
The AliDropship plugin costs US$89 and can be used for as many AliExpress products as you want to import into your store, in as many categories as you like.
An AliDropship DFY E-Commerce Store

As an alternative to building it yourself or getting me to do it, you can purchase an e-commerce store from AliDropship themselves. It's another great alternative that won't break the bank.
If you don't want to go through all the technical hassle, AliDropship will build your e-commerce store for you.
The Easiest Way to Start a Dropshipping Business.
Let AliDropship build you a perfect custom store that will work on autopilot and bring you profit for the years to come.
All you need for a successful start.
Perfect website
When you get a copy of our premium store, you benefit from its cutting-edge software and professional design that's optimized for maximum profits. All for quite an affordable price!
Hot products
No more puzzling what to dropship: our top-performing stores are already packed with PROVEN bestsellers in high-demand niches. Just watch them sell like hot cakes!
Winning ads
Attract floods of buyers to your new store with the same smart, money-making ads we run for our own dropshipping stores. Get a ready-to-use marketing package to skyrocket your sales!
The AliDropship DFY store is your hands-off solution to create e-commerce website.